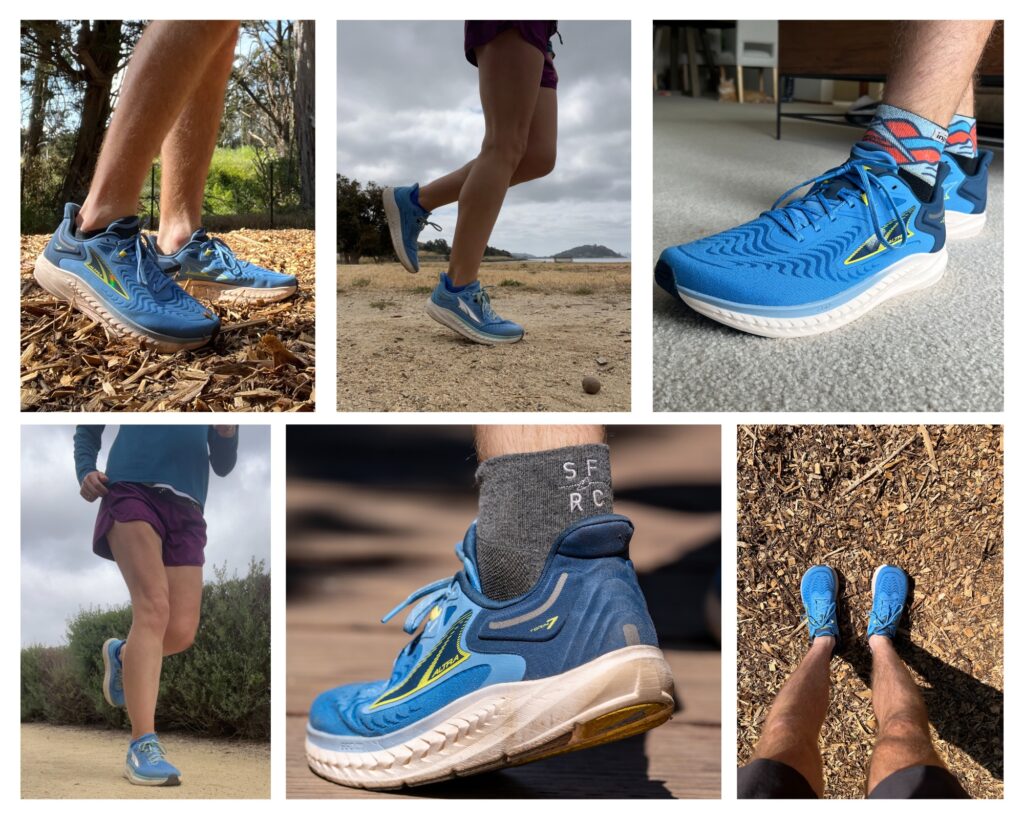 Heather, Jeff, and Paulius hit the pavement in style with their new gear: the Altra Torin 7s. Check out what they had to say about these cool kicks after their test drive! The Altra Torin 7 is available at both SFRC locations for $150 (Trail Club members receive 10% off 4 pairs of shoes per year).
Heather Lutz:
I have done a few shorter runs in the Torin's and I have to say I like them! I have used their Altra Lone Peaks on the trails but found them to be too wide for me. These, by comparison, feel less wide and hold my foot snug, but still room in the toe box, but not too much. I found the uppers material of the shoe to breathable and comfortable all around. I felt the collar of the shoe on my ankle bone a little while walking, but hasn't been felt on runs. I found them to be true to size and not a lot of break in needed. I found them to be responsive and not overly cushioned.

Paulius Dragunas:
I am a 1-2x per zero-drop runner and prefer doing my daily walks in zero-drop shoes. I have done about 60 miles total on the shoes (mix of walking and running).
Tongue – No issues with the tongue. It's comfortable, and I can usually slip my feet into the shoes with no hands. I never once noticed any discomfort with it while walking or running. Well done Altra!
Toe box – There is plenty of space for someone with a slightly wider foot but isn't necessarily in the market for a wide-sized shoe. They aren't too wide, my foot never feels like it's sliding around in the shoe. I usually can't fit into any Salamon or Nike shoes. No issues here.
Laces – Altra has gotten the length of their laces down just right. They tighten well and don't bounce around too much while running. The shoes never untied once during a run, which is a first for me.
Support – They provide solid ankle support without digging into your heels. The rest of the foot has plenty of room to breathe without the shoe feeling sloppy.
Other comments –Incredibly comfortable shoe. They have become my go-to shoes for easy & short road runs and daily dog walks.
Jeff Thompson:
Unfortunately I haven't got many miles in them due to injury, but I can say a few words!
The Torin 7 is my go to recovery day shoe. It is very cushioned and soft underfoot. In addition, the altra signature wide toe box works great when the feet are a little beat up.
This particular model improves on everything that annoyed me in the last torin model I used (torin 4.5). Overall, it's a simple and comfortable upper with a thick, forgiving midsole. This shoe is great for easy miles and doesn't try to do anything too much.