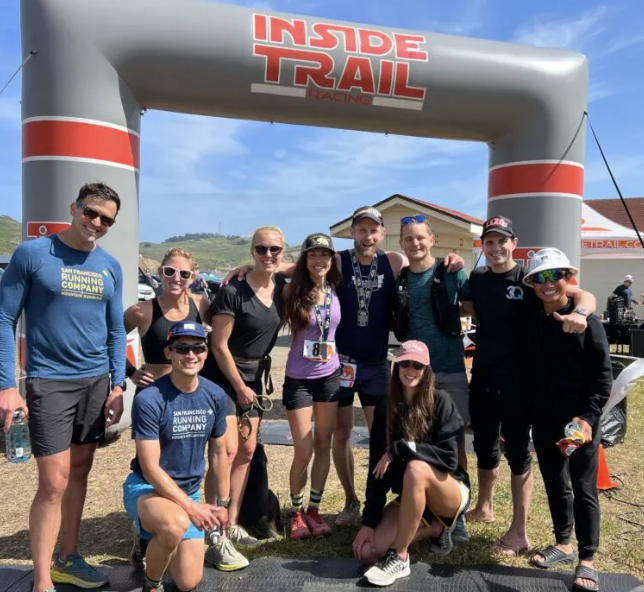 Pre Race
I registered for the Marin Ultra Challenge – MUC – in March 2023. I searched for 50-mile races in Oregon, Washington, and California before settling on the location where I began running trails, found a supportive community of friends, and lived for over a decade since moving to the United States. It was a perfect way to commemorate the life I had built for myself in the past eight months. I was elated to run on the trails where I trained from the start, backed by my friends' encouragement.
I trained hard with an all-in attitude, which I may have inherited from my dad or grandfather, Grandpapa. They were determined individuals who never looked back once they set their minds to something. To improve my training, I sought guidance from other athletes in the Ultra World and learned various effective methods. My routine consisted of easy, speed, and long runs, as well as strength training to prevent injuries – the "You-Know-Who" of running. Sometimes, I may overdo it due to my love for running. However, I always find joy in it and never struggle to motivate myself; I get to run; I never have to. Although waking up at 4:45 am on Wednesdays was a challenge, the reward of watching the sunrise from Mount Tam and savoring a post-run coffee in Mill Valley always made it worthwhile.
Over the course of four consecutive weeks, I maintained a rigorous training schedule of running between 65-75 miles per week, completing back-to-back long runs on the weekends to build my endurance. Three weeks before my race, I hit my peak by logging a total of 78 miles in a single week, including two back-to-back 20-mile runs on the weekend. I am so thankful for Epsom salt baths, always there to rejuvenate my tired legs. Prior to the race, I had the privilege of pacing my friend Lindsey on her 100-mile race at Canyons. I ran 38 miles and spent 8 and half hours on my feet. This experience proved to be the most beneficial mental training I could have done. Not only did it allow me to better understand what it feels like to run such a long distance, but it also reminded me to appreciate everything around me, from the beauty of nature to the inspiring racers, volunteers, and spectators. The entire experience was mind-blowing and left me feeling motivated beyond measure.
Tapering was rough. I started my taper three weeks before the race, coming down to 53 and 44 miles. During those weeks, I felt very tired and not at my best. After running that 78-mile week, I was concerned that I had pushed myself too hard. My legs felt heavy, and I was mentally and physically drained. Despite this, I convinced myself that it was just part of the training process. The week of the race, I did some light, easy runs with my dog Eo and some strides to prepare. The tightness in my body was real, and my hip flexors started to hurt, making me worry that I might have an overuse injury. I rolled, stretched, and got some massages from my husband, Sam. Thankfully, by Thursday evening, I started feeling better, and by Friday morning, I felt brand new. Woof! I was ready, race-ready baby.
The week of the race, I devoted my time to developing my race strategy. I researched the other participants to assess the competition and their past performances. I am a naturally competitive person if you couldn't tell. I soon realized that I could do well in this race, but since I had no previous experience, I was unsure what to expect. Who knows what will happen after 30+ miles? I will admit, I checked the course race record…because why not?! It was 8 hours and 26 minutes for women. I calculated the avg pace to break that course record, 10 min/mile. In my mind, I was like, "Oh yeah, I can totally do that.". But for 50 miles, really?! I analyzed my training runs and was fortunate to have covered 95% of the course multiple times. I studied my previous times for each segment, especially the climbs, and enjoyed analyzing my performance like a little data analyst. My UC Berkeley Statistics BA degree finally proved useful in real life. My husband glanced over at my monitor screen and made a comment about the seasonality of the data, thinking I was studying marketing trends for work. Let's keep that between us, alright?
I created a plan for my race goal. If everything went perfectly, I hoped to finish in 8 hours and 30 minutes. I wrote down three outcome goals: my A goal was 8:30:00, B goal was 8:45:00, and my C goal was 9:00:00. My D goal was to finish the damn race regardless of my time, all I wanted was to have fun and give it my all, and if that meant finishing in 12 hours then be it. To reach these goals, I set process goals. My nutrition goals included consuming 200-300 calories per hour, starting the race with solid food, and transitioning to gels or whatever felt somewhat appetizing later on. I had a last-minute panic the day prior to the race about caffeine. I decided to consume caffeine throughout the race after consulting with Paul and Jamie. My other process goals were to have fun, smile, encourage other runners, thank the volunteers, connect with others, and trust myself! Oh, and Run Happy. My mantra was "Slow and Steady" and "Embrace pain, welcome it, experience it, use it as your fuel."
Race Day
The race started at Rodeo Beach, where I met Chris and Paul at the start line. We were at the front of the pack, eager to begin. The race director was yelling some instructions about the course markings color, blue, orange, or whatever it was. It went right over my head. The countdown began, and I felt a rush of excitement. Finally, the starting gun went off.
I departed along with other runners on the first climb of the day on Coastal, with some spectators already cheering us on. I took the first climb slow and steady – or at least tried – walking the steep parts and running the rest. Once I reached the top of Hill 88, which was also my bib number, I started the two-mile descent. My legs felt good, some runners were flying down, but I didn't want to blast my quads just yet, as there was a long day ahead of me. At the bottom of Miwok, I took my first gel as planned. We then climbed up Julian, a long moderate climb. I passed a couple of people and felt good. When we reached the first aid station, I decided not to stop. Next, we tackled the SCA trail, which was one of my favorite parts of the route. The views of the Bay, with the Golden Gate Bridge, the city, the Bay Bridge, Sausalito, Alcatraz, Angel Island, and the ocean, were breathtaking. It felt like any other Trail Thursday! It was so fun that I couldn't help but scream like a little kid as I went up and down the rocky trail. I opened a bar and challenged myself to finish it before the next aid station. The next four miles were a joy, and I couldn't stop smiling. Trail Sisters Amy, Marion, and Kylie cheered me on as I went down Marincello.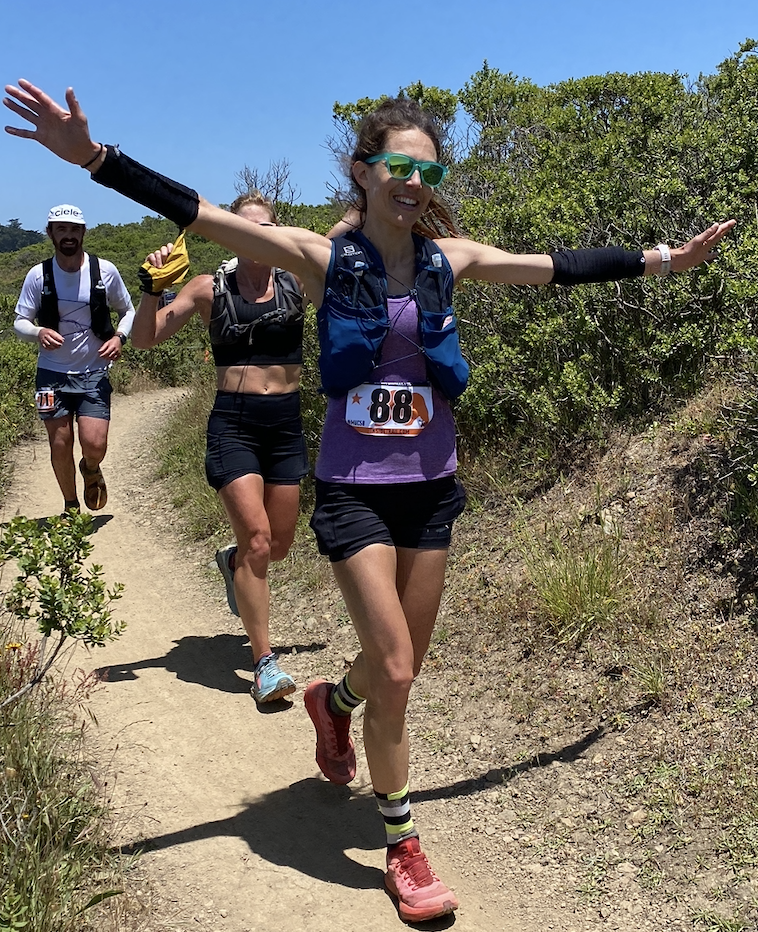 I reached the SFRC station, which was the second aid station at Tennessee Valley. My husband was waiting for me there, and I refilled my water and had a gel. Next, I continued on to the next stretch, which was another beautiful coastal trail. As I ran, I was reminded of my training runs with my friends. We had trained together on these hills and struggled through them, and the memories flooded back. The beauty of the coast made me feel like I was part of the scenery as I continued my journey to the end of the ocean. I arrived at Muir Beach aid station, where I was greeted by my friends Martina and Chris. It was so refreshing to see familiar faces. Despite how I felt, they complimented my appearance as if I had just begun my run.
As I approached the second biggest climb of the race, I realized I needed to eat before the next four miles of uphill terrain leading to the top of Cardiac Hill. This was my type of climb – long and gradual with no steep sections. I started on Heather cutoff switchbacks, maintaining a steady pace and stable heart rate while nibbling on my bar. As I continued up the hill, I noticed two men ahead of me. I ran the whole damn climb and managed to pass one of the men. And I finished my bar, good job, Pauline. Even though I was getting tired as I neared the top, I persevered because I knew my friends were waiting for me somewhere. I was pleasantly surprised by the cheering and screaming from a mix of friends and strangers. Martina was there, along with legendary David Lam and Paddy, with a group of runners. This gathering warmed my heart and gave me a boost of energy. They were running the Dipsea trail in preparation for the Dipsea race the following weekend.
I had an amazing time on the historic Dipsea trail that leads to Stinson Beach, soaking up the energy of other runners and fueling off their runners' high. The energy was up there! Along the way, I had several friend encounters. First, Will, Alex, and Charles, then Jamie and Christian. All of whom put the biggest smile on my face. I was feeling so good that I forgot to fuel and drink; thank you, Paddy, for your last words: "KEEP EATING!!!".
I arrived at the next aid station, located at the base of the infamous Willow Camp, a treacherous climb of 1,800 feet in 1.8 miles. I found myself catching up to Chris. It was hard to tell who was more out of sorts after having already gone 24 miles. He was acting wild and speaking with such fervor that it seemed like he was trying to psych himself up to face demons on the upcoming climb. Willow Camp, you had been haunting my dreams, but I was ready for you. I downed a gel and some energy drink before breaking into a jog for as long as I could sustain it. This climb was not for the faint of heart. The man in front of me was even walking backward. I was determined to keep pace with him, we were in this together. We alternated between fast hiking and jogging whenever we could. My watch vibrated, indicating a pace of 19 min/mile; I thought, "Don't look at it, Pauline. Everyone's struggling, you're doing great." As we got to the shaded area of the climb, surrounded by majestic trees, I passed the man; he said, "It never ends," and I responded, "That damn hill, we're almost there." Finally, we reached the top, my legs aching but my heart soaring. The promise of the next miles along the scenic Matt Davis single-track kept me going as I ran alongside tall grass, hay, and wildflowers with stunning views of Stinson. I felt grateful and alive, as if I was exactly where I was meant to be. The challenge of pushing myself was oddly satisfying, and knowing that my pacer Lindsey was waiting for me at the end of this stretch fueled me to keep going.
I reached Pantholl, just a quarter mile away from Cardiac aid station, and was happy to find Martina there. We jogged and chatted, which boosted my confidence in my physical and mental state. It's amazing how a simple conversation can remind you that everything is going to be okay. The aid station felt like a party, with lots of cheering that filled my heart with warmth. Lindsey, my pacer for the next 20 miles, welcomed me with open arms. She applied sunscreen to my face, but my competitive side kicked in when the guy I had passed on the last climb rolled in the station. I impulsively said, "Let's go!" and we took off, forgetting that I still needed to rub the sunscreen on my face.
We embarked on the TCC trail through the renowned Muir Woods National Park. The trail was rugged with rocks and twisted roots, but the grand and stunning trees made it magical. Lindsey's infectious positive energy kept me uplifted, and we picked up our pace until we reached the next climb through the forest. Lindsey, a PE teacher, is known for her talkative nature, but I had no idea how much until she shared her recent camping trip stories with her students in Washington. Her stories were not only entertaining but informative, as I learned about trip preparation, the complexities of eighth graders' love lives, and the significance of keeping calm during river rafting. Not to mention Lindsey's bear encounter story. That was the best one. The following thoughts floated in my mind, "Alright, I'm going to be ok with Lindsey by my side if she can fight off a bear. I've got a killer pacer!". Whether it was a talkative student who talked to themselves all night or a breakup on the first day of the trip, it felt like watching a reality show but a million times more entertaining.
After quite a trek, we finally made it to Deer Park aid station. I had my first sip of Coca Cola, and savored the taste of the cold, carbonated beverage on this hot day, thank you Coca Cola. The refreshing watermelon and fruit felt like a treat. Then, we continued on a 2.5 mile switchback climb through shaded trees, followed by a 2.5 mile descent with an ocean view to Muir Beach. During the climb, Lindsey shared more stories. I was thrilled to learn that she and Matt loved Catan, a board game that Sam and I enjoy as well. I wondered if we should skip the next 15 miles and go play Catan right now. Soon, we caught up to a fellow racer who tagged along with us. Lindsey and he chatted while I focused on conserving my energy. We saw Rob and Liam at the top of the hill, and I managed to put on a cheerful face despite my exhaustion. As we descended to Muir Bear, my body moved on autopilot, and it reminded me of my golf days when muscle memory takes over the mental game. My body knew what to do, whether it was a mechanical stroke to sink a winning putt or putting one foot in front of the other. I trusted myself, after all, it was one of my mantras for the day.
At the Muir Beach aid station, I was reminded to enjoy the experience as Sam danced on the roof of the car, blasting music. What a scene! After another dose of Coca-Cola and watermelon, we headed to Green Gulch Farm, a Zen Center, where I soaked up the peaceful and meditative atmosphere before tackling the second-to-last climb. I walked for five seconds before letting my body run. And that's what we did for 90% of the climb, accompanied by T Swift's music playing on Lindsey's phone. Delirious from exhaustion, Taylor's music gave us the strength to keep pushing and pass some people on the way up. I thought "Green Gulch climb powered by T-Swift" would make a great tagline and even considered pitching the idea to Taylor. What a way to break into the Ultra World for her, I could already picture a Salomon and T-Swift partnership. When we arrived at the top, it was a single track down Miwok, which was so much fun. However, my legs began to tighten and each step downhill became increasingly painful.
At the Tennessee Valley aid station, I was so focused that I didn't even notice Matt or other members of SFRC. A last dose of Coca-Cola and onward we went. We had 4.5 miles to the finish, including a 2.5-mile climb. While climbing up Old Spring, I briefly walked for a few seconds before realizing it felt easier to run. We passed the runner I had constantly been trading places during the race. This is where I witnessed Lindsey's true competitive drive, her personality came out strong and shined. She pushed, forced-fed, and inspired me. Her tough love and determined words, "This is the time when you dig deep," motivated me to the core. Recalling my personal mantra, "Experience pain and use it as fuel," I chased down the man in front of me. It turns out I have quite a few demons inside of me. Lindsey kept saying, "You see that guy, oh we're so going to pass that guy," and it was like a song in my mind, "dig deep," "pass the guy," "embrace pain," "get up the hill."
After making it up Hill 88, the end of the race was finally in sight. A 1.8 mile downhill sprint to the finish awaited us. At first, my quads were in agony, and I struggled, but my body took over and gained momentum. I felt like I had wings. In a moment of pure exhilaration, I even shouted, "Yeeehaaaa". Finally, we spotted the finish line after making a turn – that felt good for the soul. I had visualized this moment many times leading up to the race, and now, it was happening. I felt truly alive, feeling every bit of the pain, joy, sadness, and strength. I was completely lost in the moment, with nothing else on my mind but crossing the finish line with everything I had left. I shouted, "We're doing this, WOOO, let's go finish this thing!!!". I felt free, letting gravity do the work, like a child carelessly skiing down a double black diamond slope without a care in the world. But then, we saw it: the last switchbacks of the race. I sprinted as fast as I could, letting my emotions run wild. And then it happened – I crossed the finish line, depleted of energy yet so high on life. I fell into my friend Nikki's arms and then into my husband's. It was a moment of pure happiness and accomplishment that I will never forget.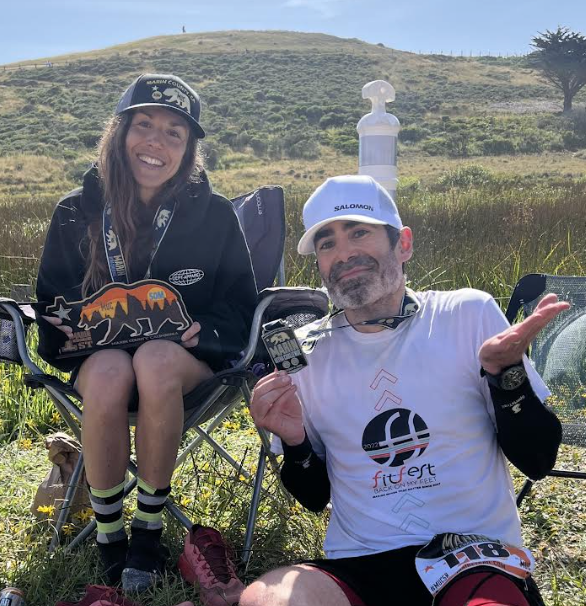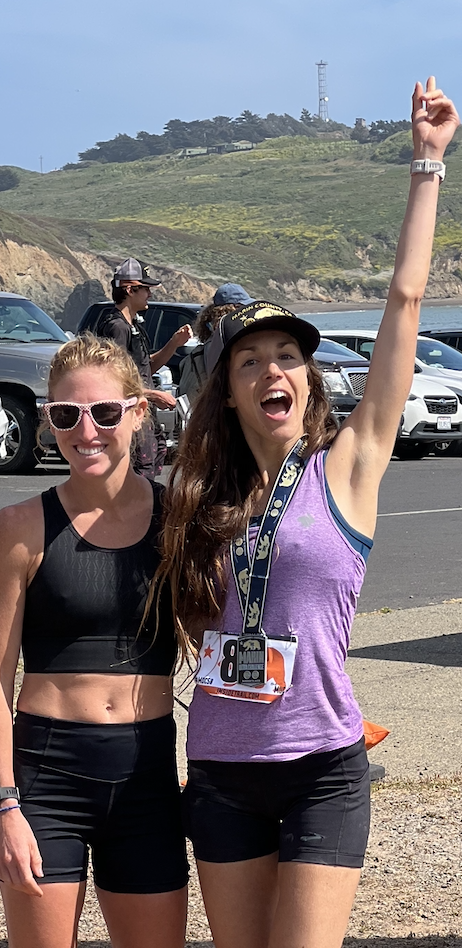 The End
Powered by T-Swift, I placed first among women and 11th overall in the race, with a time of 08:40:10. It's a strange feeling to finish such a long race, my body was trashed, yet the rush of adrenaline and caffeine made me ecstatic. I was surrounded by some of my favorite people while doing my favorite activity of all time. Although my body was in pain and I could barely stand, I eagerly waited for Chris and Paul to finish the race. We spotted Chris with his three pacers and the boombox. He crushed it and finished with a huge smile on his face. Meanwhile, Paul crossed the finish line looking just as fresh as when he started. It's amazing how racing with others can create a unique bond and bring people closer together. I even made a new friend with someone I passed and who passed me multiple times during the race, who happens to now be part of SFRC!
I will keep coming back to these races because of the amazing sense of community that surrounds them. Volunteers, friends, friends of friends, and fellow racers come together to empower and support each other, creating a truly remarkable experience. And, of course, the big ol' trees and Taylor add to the atmosphere. It's incredible how strangers can make you feel such intense emotions. Thank you all for making this day so special. It was a unique experience that I will never forget, and I can't wait for more races in the future, each with their own special qualities.