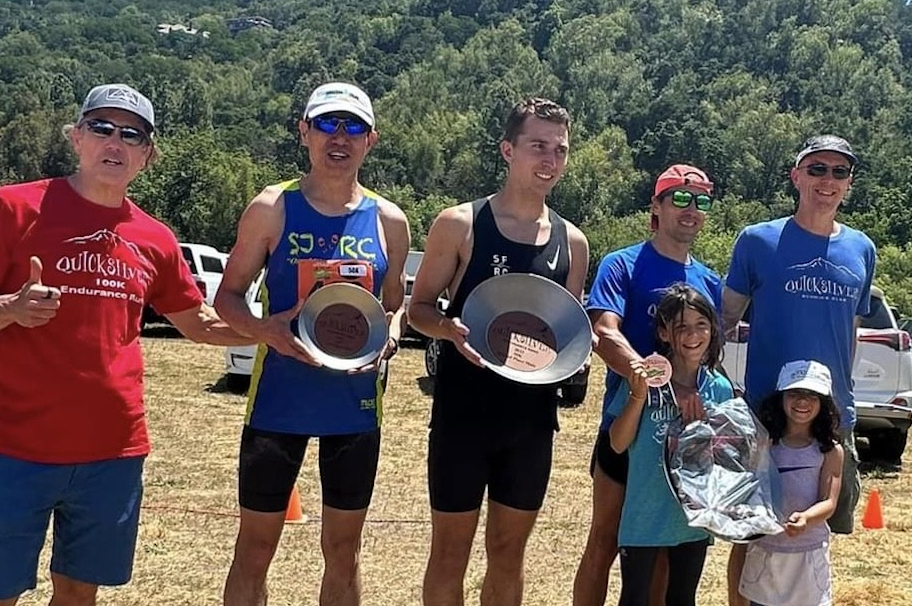 By Mark von Hacht
I would like to preface this by stating I've never typed up a race report before so this will be my first. I enjoy reading them as I find it interesting to get a glimpse into other athletes' experience. In the end, I hope to be able to relate in some way to the athlete, even if though just a minor detail. So, that is my goal here.
Pre Race Stuff
The buildup for this event was about all I could have asked for. I had just raced Lake Sonoma 50 on April 8th, which left me about four weeks to keep the train rolling and then I already arrived at race week! That month in between was well executed, running roughly 60 miles a week with a focus on the weekend long runs and sufficient vertical gain. One of those runs included roughly half of the Quicksilver 50k course itself. I usually always try to do some type of course recon if possible. I don't like many surprises on race day and prefer to know what I'm getting into. Also, I'm not sure if it's just me but after almost every race I think to myself that I was under-prepared in some way. Usually in the form of getting the adequate vertical gain in. Anyways, into the event itself.
About The Race
The race takes place in Almaden Quicksilver County Park in San Jose, CA. The park has a rich mining history that dates back 135 years ago. The 100K distance had an early start time of 4:30 AM but luckily for me, I did not have to be at the start line for the 50K until 7:00 AM. I felt well rested at the start line but I'm not sure anyone really gets proper sleep the night prior to a race.
The race can easily be broken down into thirds. The first and last third of the race are extremely similar. One long gradual uphill climb followed by a long descent. Each of the climbs ranges from 3-4 miles long and with 1,200-1,500 ft. of vertical gain respectively. The middle section is what I deemed as the crux of the race. It had punchier and rolling climbs that required a higher level of focus and controlled effort. This middle section still maintained a net vertical gain of roughly 2,000 ft.
The last thing that should be noted about the course is the lack of shade. All the climbs and trails are pretty exposed to the sun. While the weather leading up to the race was no more than 65° Fahrenheit, race day got up to 85° Fahrenheit – just my luck.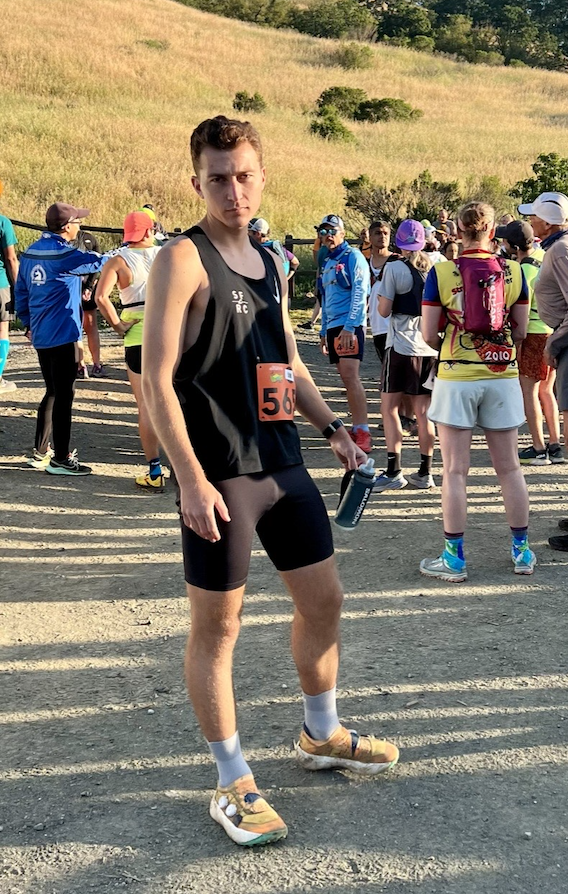 Race Experience
I got to the race early to pick up my bib and warm up. I did some jogging around, ran about 50 yards up and down some singletrack off to the side a few times and made sure to use the portable restroom before it was time to line up. Before I knew it, it was 7:00 AM and the race started. I went out at what felt like a controlled effort. I tend to run the uphills faster than most but then get caught or even passed on the downhills. As I feared, I quickly found myself leading the race. It's a strange feeling to be in the front, even if you don't want to admit it. It feels as if there is suddenly added pressure. I'd much prefer to be right behind the leaders, hunting and not being hunted.
As I got near the top of the first climb and the course flattened out a little, local Quicksilver Running Club member Gaspar Mora took the lead. I was completely okay with this as not only do I prefer chasing down the leaders, but he was much more familiar with the course, too. The course is a little complex and taking a wrong turn wasn't out of the realm of possibility. He never got more than twenty-five yards ahead of me either.
Nearing the top of the first climb, I looked over to the right and for the first time I witnessed a cloud inversion. Finally, after seeing countless of these on my Strava feed from all the SFRC running members who make their way up Mt. Tam, I got to experience one myself. It was super as the sun was just really starting to rise as well. It put a smile on my face as I continued to keep the effort controlled.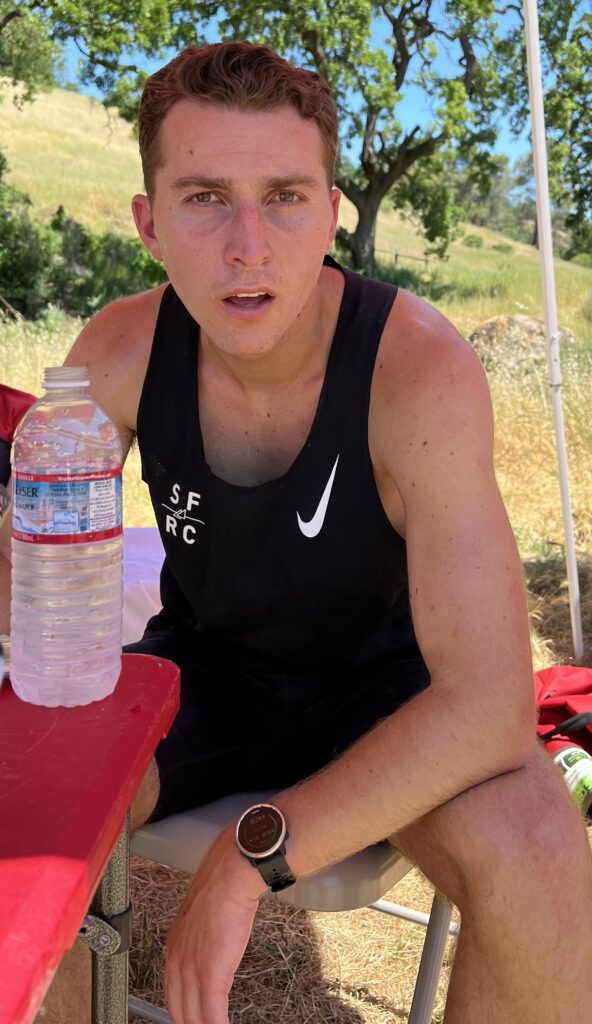 At mile five there was an out and back section where I was able to see the other athletes running. I've quickly learned to love these features as you cheer on others and in return get cheered on yourself. The energy is contagious. Gaspar and I were running together during this but not far behind us at all was Calvin Do, who was substantially ahead of fourth place. This in my head created what could very well be the podium. At around mile six we all got into the first aid station within 15 seconds of one another. I was the first one to leave and quickly started to make my way to the downhill section that comes after that first initial climb. This downhill section takes you back to the start of the race. From miles six to nine I was basically alone but not ahead by more than 30 seconds. On the final stretch of the first long downhill section, I was eventually caught and passed by both Gaspar and Calvin who took that downhill much quicker than myself but in doing so mentioned "you'll get us both on these next climbs". I agreed.
We all went in and out of the second aid station within 30 seconds of one another and made our way back up a climb. I knew this next middle section, or the crux as I called it would be where the race begins to separate. As we started to work our way back up I slowly but surely passed both of those guys again. At around mile 11 these climbs became short and punchy. The effort increased and the pace even slowed a little bit. This wasn't what I was hoping for because the first 10 truly did feel very controlled. However, I know how difficult it is to run every step of a race, especially up the climbs. I also wasn't being passed either. I arrived at the mile 13 aid station, Gaspar right on my heels and Calvin probably not too far behind him.
I run with two 500 mL. soft flasks and started the race both filled with water. Eventually, I switch over to one with water and the other an electrolyte mix. This is where I made that switch. I know there was still about 1,000 feet of climbing coming up within the next 3.5 miles. I tried to put my head down, nose to the grindstone and work my way through it. However, the heat started to pick up, the terrain a little more technical and I was simply just getting tired. Gaspar continued to look strong as he passed me on this long climb. It flattened out for a little bit around mile 15 and as my legs started to turnover again and I stopped hiking, I thought I'd see him, but I never did. Calvin was no more than 50 -100 yards behind me, I'd turn around and would be able to see him. We ended up leap frogging until we got to the top of the climb and arrived at the Mile 17 aid station.
The mile 17 aid station marked the end of the tough middle section. The rest of the course was a long and gradual five-mile descent, followed by a long and gradual five-mile climb. Finishing off with a fast downhill 5k to the finish. I wanted to make a strong move here after refilling hydration at the aid station. I started to click off the descending miles at what felt like a fast pace, though looking back on the individual mile splits it was nothing great. Nevertheless, I had this feeling I was breaking away from Calvin and potentially even catching up to Gaspar. The first mile downhill was a little under a 7:15 minute mile, before the terrain got a little more technical, with more switchbacks slowing the pace. However, I got to the bottom of the downhill section and arrived at the mile 22.5 aid station feeling like I moved through that the best I could do.
At this point I was 23 miles in and that familiar feeling of when you've been running for a long time and slowly start to realize the tank is pretty much empty was setting in. The idea of running the next five mile climb strongly felt impossible. Especially the first half mile to mile right out of the aid station, which was super exposed to the sun and dauntingly steep. I did what anyone should do in this situation: just try their best. The climb starts to loop around making a turn to head back up to the same aid station at mile 17, thus also becoming the mile 28 aid station. It isn't quite an out-and-back, but it creates a loop to get you back there. As I started to switch between jogging and hiking, I was able to look back, no Calvin in sight. This felt good but I knew I wasn't moving very fast.
Those next 5 miles took me 55 minutes, which felt like forever. I spent much of that time looking over my shoulder for Calvin and trying to jog more than hike. With about two miles left in the climb I looked behind me and there he was. Slowly covering ground to catch up to me. At this point I knew Gaspar was gone, I was no longer in the hunt and instead was being hunted myself. Those last two miles are as steep as the beginning of the climb, and it seemed like every time I turned around, he was getting closer and closer. Finally, after a long and challenging grind I finished the climb, the last of any uphills left on the course. I started trying to run fast and finish strong, knowing that if I got to the last three-mile downhill stretch I could roll it into the finish line relatively quickly.
I arrived at the mile 28 aid station not being able to focus on the task of getting water quickly and heading out. There was a large group of people arriving at mile 17 using the aid station as well. I patiently waited but knew I should try and be quicker. I spent longer than I should have there because right as I was ready to go there was Calvin just rolling in. Before taking off I said to one volunteer, "this is going to suck". I started to run as fast as my legs could go, running downhill felt good, but at my pace somewhere in the range of 6:00 – 6:30 minute miles, it was uncomfortable to say the least. I knew I had less than three miles left.
Mile 29 clicked by with my watch reading 6:23, that felt good. I continued to push the pace and thus the pain increased as well. I looked back, when possible, no Calvin in sight. Mile 30 clicked by, 6:09. I looked behind me and still nobody. I thought to myself that this was fast and likely I was creating a bigger gap. But, with less than half a mile to go a truck drove up the fire road we were on, he clapped for me as I was visibly in pain still pushing my absolute hardest. No more than two seconds after I ran by him in his truck, I heard him clap again. I think my heart sank a little as sure enough when I looked back Calvin was right on my heels.
I thought to myself, "Of course this would happen to me, a sprint finish after running 30+ miles…". I tried increasing the pace. At this point I was just redlining it to the finish trying to give everything I had, and if I got passed then so be it. I was less than 200 yards from the finish line when I heard my dad shout, "YOU'RE GOING TO HAVE TO RUN HARDER". The last 100 yards was a blur as I sort of closed my eyes and tried to hold on. After realizing I crossed the finish line, I found the nearest chair near me and just sat in complete exhaustion. I heard over a megaphone the time difference, I held off third place by no more than one single second, securing me second place. What a story to tell, I thought to myself. Gaspar finished 4 minutes ahead of myself and Calvin.
Conclusion
I'm extremely grateful to the Race Directors, Loren Lewis, and Stuart Taylor for putting on such a great event. They made sure to ask if there was anything they could do better as they are always looking to improve the race in any way possible. The atmosphere, volunteers, competition and trails themselves were all superb. I recommend this race to anyone, whether it is their first ultramarathon, or they are looking for one to test themselves on, historically it has some incredible times by some fast athletes. Lastly, thank you to SFRC, the shoes (GS:TAM), NNormal socks and SFRC singlet were all able to be purchased from the store and felt amazing on race day. I'm always impressed by what the store has to offer, not just in terms of product but also the community around it!