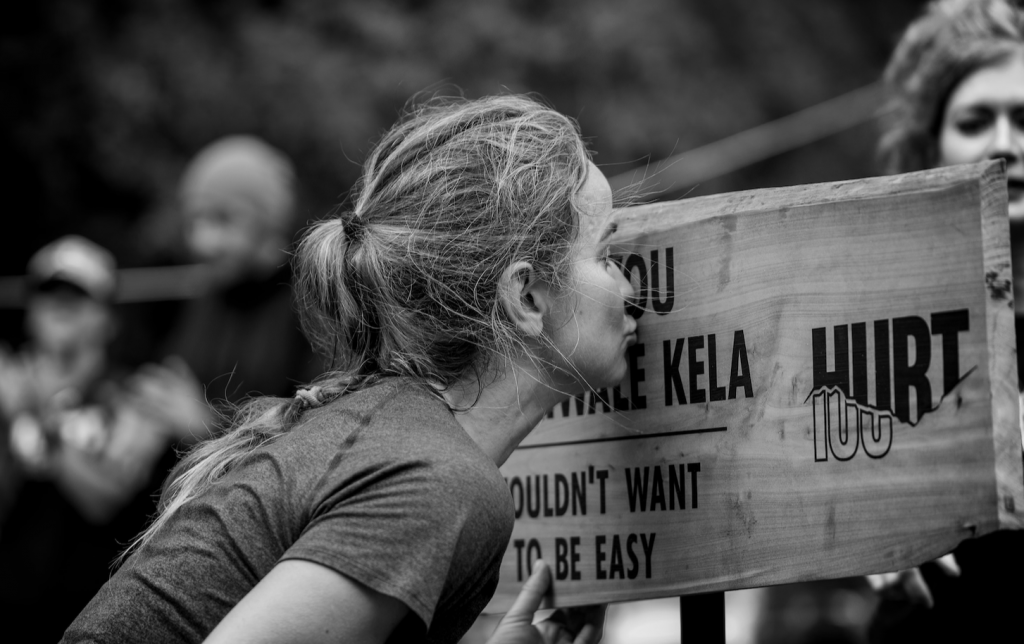 Hometown: Tallinn, Estonia
Occupation: I am a mom to three kids, work part time at SFRC and was an assistant coach to Tam High XC Team this past fall.
Favorite food after a run: Avocado waffle at Equator or plain Greek yogurt with peanut butter.
What are the top 5 songs on your playlist: Tennessee Whiskey by Chris Stapleton, Carousel by Miner, Lift me Up by Rhianna, Walking on Sunshine by Katrina & The Waves, Chattahoochee by Alan Jackson. I also like to listen to Jonny Cash when my mood is low.
Favorite movies: Basically anything with Melissa McCarthy or The Rock, Dwayne Johnson – I do not have an amazing taste in movies. I also make the kids watch Die Hard and Die Hard 2 every Christmas. Basically everyone in the family has better taste in movies than me.
Hobbies besides running: Drinking a good cup of coffee. I think it is a very nice and almost the best thing to do, especially if you have friends to do it with. I also like to read at the end of the day, sometimes fiction, sometimes non fiction. Lately, I have been reading Isabel Allende books one after another.
Favorite vacation spot: I really love Hawaii, Kauai. It was the first island we visited with family and I felt like if there is such a thing as reincarnation, then I probably lived there in my previous life.
Favorite way to unwind: I feel that hiking by myself is truly my favorite thing. Being outside in nature I feel like I am with someone who I 100% like spending time with and I never actually feel alone and always feel so good afterwards.
Also, I like eating delicious foods on the sofa while watching a movie that makes me laugh, which is what I mostly do to unwind instead of going out and hiking.
Favorite quote: My favorite quote is either Madonna's, "Less cake, more work," or Martha Beck's, "How you do anything is how you do everything." I don't really live according to either of the quotes but I try and remember the latter when it comes to doing things I do not particularly like doing, which is about 75% of the time.
Causes you are passionate about: There are several things I feel passionate about but since I do not do much about any of those things then maybe I can only say here that I feel passionate about our running community. I have truly met the best people through running.
What's something we would never guess about you: I grew up dancing folk dance and did not run until I was well in my thirties. I first took up running when I was 36 years old and mainly as an extension to hiking because I fell in love with the trails in Marin. It also seemed like a good excuse without feeling too much guilt to take some time off family and kids and reload.
Favorite running trail: My favorite trail might be Sierra Trail from Alice Eastwood camp toward Panoramic. It is sort of not very maintained, there is almost never anyone there, its all runnable and its very cozy feeling in its entirety.
Favorite race: Probably Quad Dipsea, it's just an awesome local classic with lots of climbing and you always get to see your friends several times since it is out and back x 2.
What advice would you give to a new runner: You will probably not regret it.
Races on your bucket list: I would love run Orcas Island 100 or go to British Columbia for a race but also one day do UTMB and also TOR330, Tor des Geants. So big dreams 🙂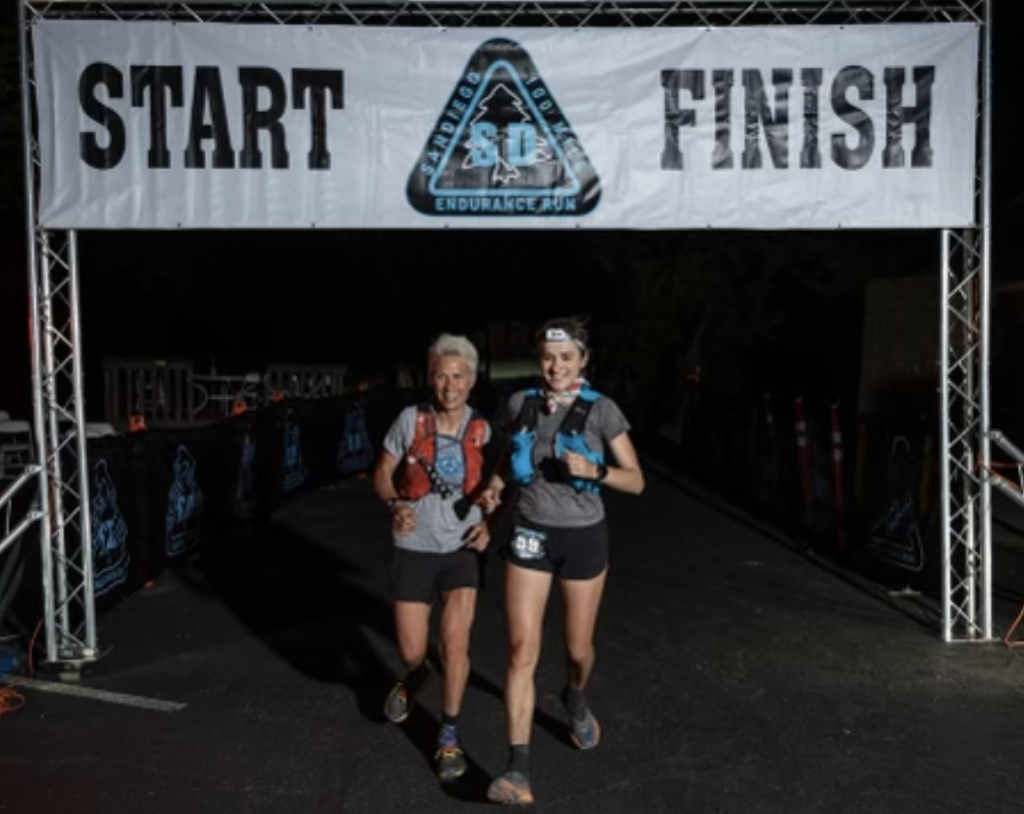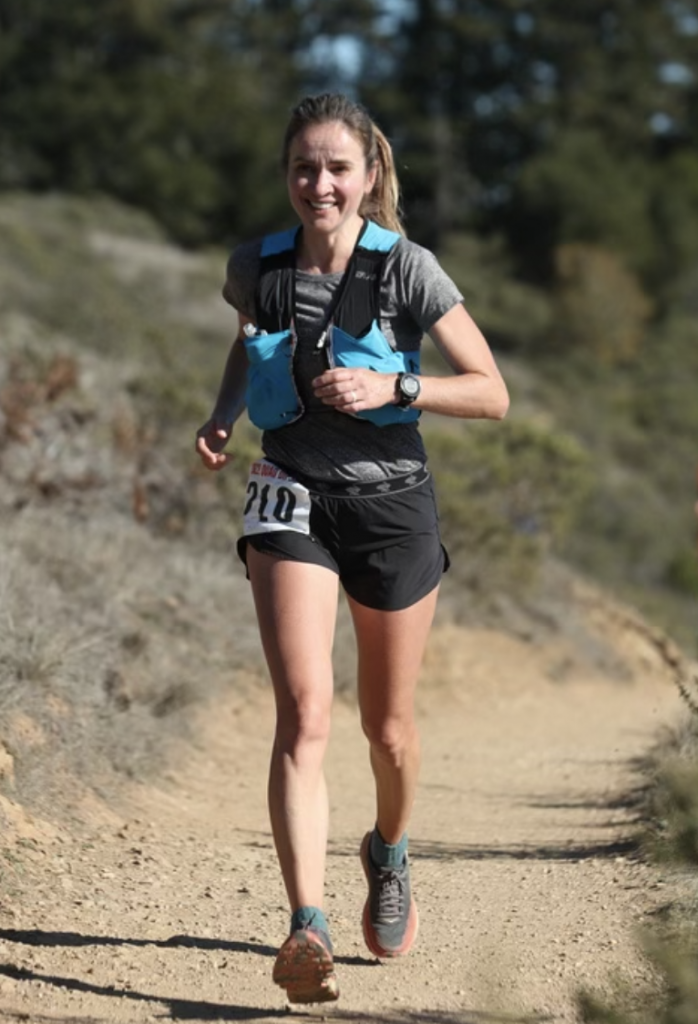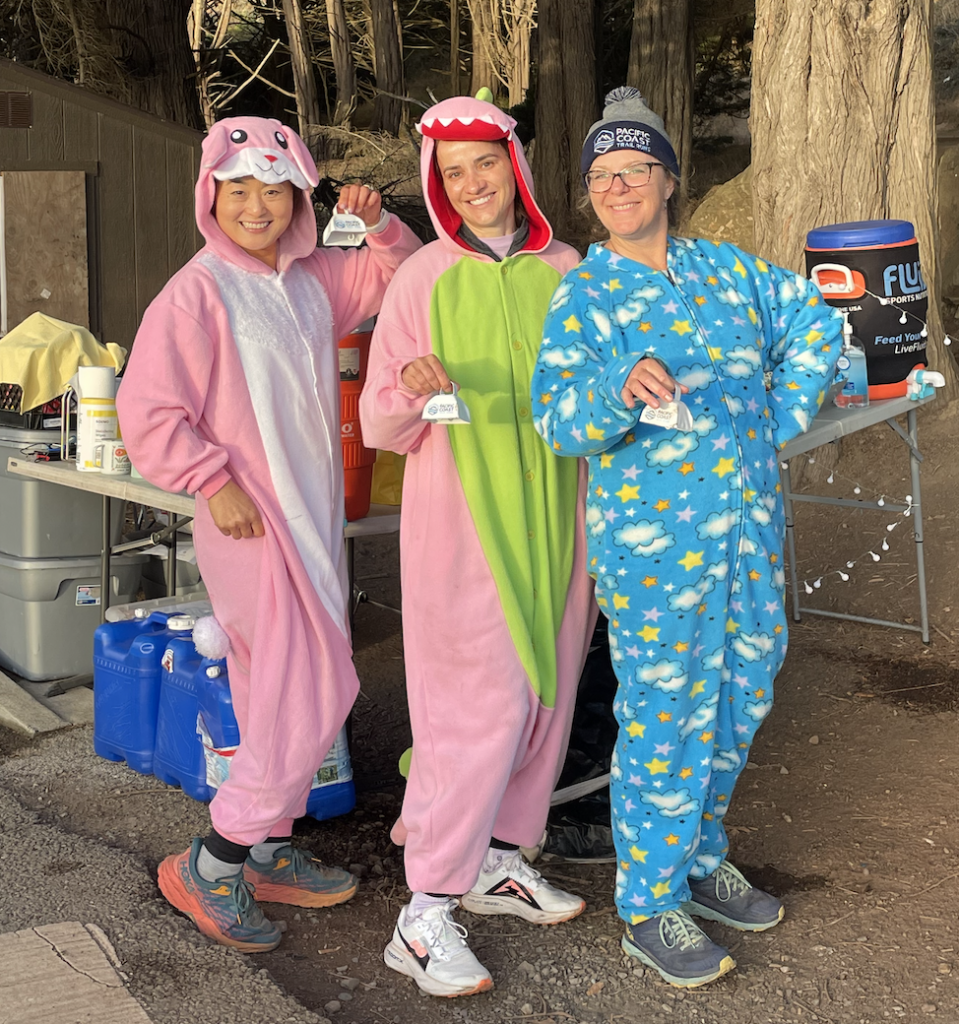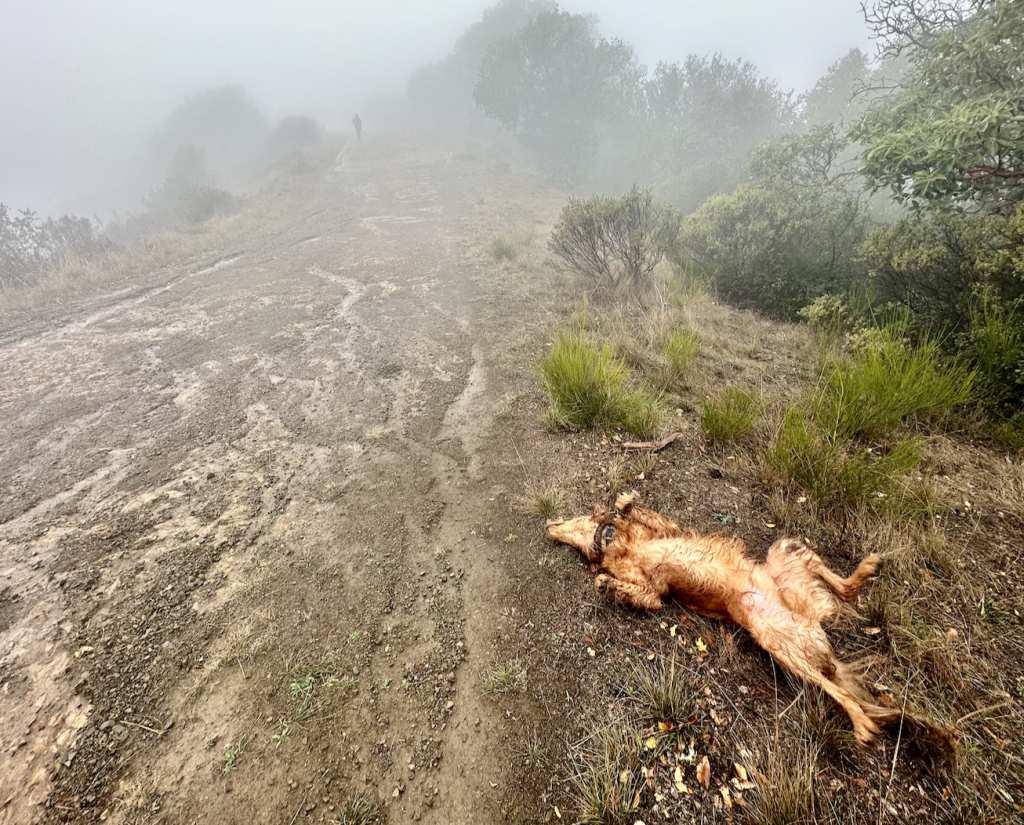 Sweet Watson accompanying Kati on a hike!