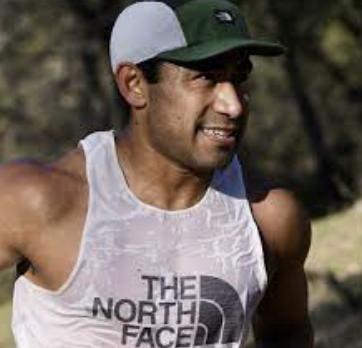 Hometown: Gilroy, CA
Occupation: Maybe it's not as complicated as I think but I used to be the Assistant Store Manager for a North Face Retail store. I recently demoted myself to a part-time associate. I've been there 9 years! It's funny because I started off as a seasonal worker and worked may way up to ASM. Now, I'm a full time student at West Valley Community College and a stay at home dad, so a stu-dad-nt? My plan is to major in kinesiology and become a P.E. teacher.
What is your favorite food/dish after a run: A quesadilla with avocado and homemade bitchin sauce! Pour a little bit of olive oil in a pan, put a few tortillas in (be sure the tortillas are covered in oil), once one side is golden, flip the tortilla, add the mozzarella cheese, close the tortilla, be sure to cook evenly on both sides, put them on a plate, add in your sliced avocado, sprinkle a little bit of salt on top, and you're in heaven for a about 5 minutes.
What are the top 5 songs on your playlist: Arcanum by Show Me the Body, Kid A by Radiohead, Magic Ways by Tatsuro Yanashita, Up My Sleeves by Death Grips, and The Blacker The Berry by Kendrick Lamar.
Favorite movies: The Life of Water, Django, The Sound of Music, White Christmas, Man on the Moon.
Hobbies besides running: Playing my instruments, making music, collecting rare city pop records, taking pictures, and hiking.
What is your favorite vacation spot: Lake District in England but if we're talking about in the U.S. I'll have to go with Sun Valley, ID.
What is your favorite quote: "The sun don't shine in your TV" -Daniel Johnston
What's your favorite way to unwind: Listening to a record and drinking a beer or 3 beers.
What causes are you passionate about: Well I do care about the environment. I've called out many people before for littering, in a nice way (it's all about tone), but people always seem to want to fight me for doing so. They never do because they know how stupid it would be to assault a person for something they did wrong. I also enjoy volunteering for open spaces and national parks. Those usually involve trail restoration projects, seed collecting, and removal or invasive plants. My wife and I shop about 75% local, we don't buy many things other than essentials like fruits, veggies, pasta, and bread. We make dinner every night and rarely go out to eat. So I guess you can say I'm passionate about conserving wild places and reducing my carbon footprint. I'm also passionate about supporting and inspiring kids in my community. Specifically those who run XC who's parents may not have the time, money or resources to support them.
What's something we would never guess about you: There are many things to add to this haha but I'll stick with a few things. I can walk 100 meters on my hands, I use to be in a couple of metal bands in high school and years after, I had a septum piercing that used to be the width of a pencil (the hole is still there but it's probably a 2gauge), and I'm a race director?
What is your favorite running trail: The Bayview Trail in Mt. Madonna County Park.
What is your favorite race: CCC! I hope to return to France.
What advice would you give to a new ultra runner: Get out while you still can! Or maybe something like even if you decide you don't like it, you'll probably stay for the community.
Any races on your bucket list: Mt. Marathon, UTMB, Gorge 100k