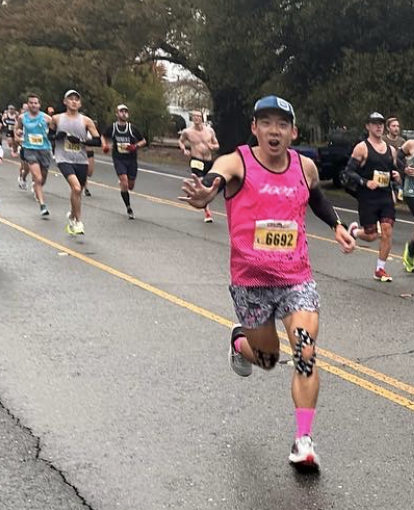 Hometown: Born in Hong Kong, grew up in San Francisco, now in San Rafael
Occupation: Scientist for a biotech
Favorite food after a run: Depends on the mood but nothing beats a nice big bowl of pho, even when it's hot outside
What are the top 5 songs on your playlist:
Linkin Park – In The End
Kenny Loggins – Danger Zone
Blackmore's Night – Under A Violet Moon
Piano Fantasia – Song for Denise
and some random Cantonese songs from the 80s/90s
Favorite movie: The Lego Movie
Hobbies besides running: Road and gravel cycling, swimming, LEGO, and bowling
Favorite vacation spot: Revere Beach in Massachusetts
If you had a warning label, what would yours say: That sounds like a terrible idea. What time?"
What is your favorite way to unwind: Watch reruns and sports on TV or stare off into space
Favorite quote: "Admiration is the furthest thing from understanding."
Causes you are passionate about: Women's rights and encouraging more women to be leaders. Also cleaning up the trail one wrapper at a time.
What's something we would never guess about you: I have been interviewed on the news twice.
Favorite running trail: Queenstone
Favorite race: Trail: Quad Dipsea; Road: Boston Marathon
What advice would you give to a new runner: Don't worry about going fast and leave your ego at the door. Walking during a run is absolutely OK!
Races on your bucket list: That one race that starts with a W and ends with "estern States"